Corporate
Looking for a team building activity where the teams actually have to work together? Then look no further, locking them up together guarantees that they will have to share ideas and communicate effectively. This isn't work, this is fun!
Here at Escapism Chester we offer a cost effective team building exercise. Escape rooms offer businesses a true team-building experience with high engagement for all participants. The benefits of team building for your staff are numerous:
Boost morale amongst staff
Encourage effective communication between colleagues
Improve efficiency amongst staff
Increase productivity
Please contact us today to get a quotation for your company's next engaging and cost effective team building exercise. We offer cold drinks and confectionary on site if required. We can also offer conference facilities off site should you wish to hold a meeting alongside your team building event.
We currently have 5 rooms available for up to 30 people an hour.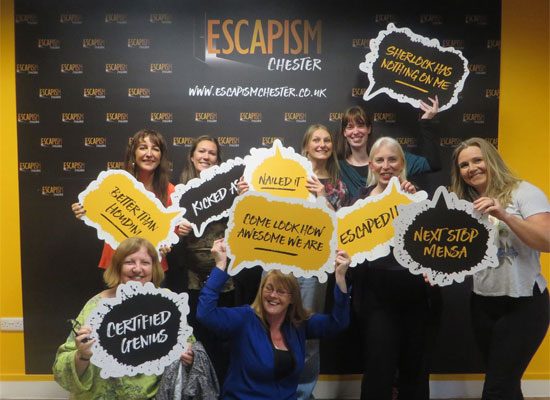 When I proposed the idea of an Escape Room based work event I must be honest it was met with some resistance initially. We booked more than one room and broke into teams. Without exception everyone absolutely loved it.
So much so that we had to schedule another one a few weeks later to include those who could not make it and the new fans. Just the right balance of challenge, teamwork and fun with staff who help make the event easy to organise and enjoyable.
We will definitely be returning to do the other rooms!
Jo Wood, Beehive Healthcare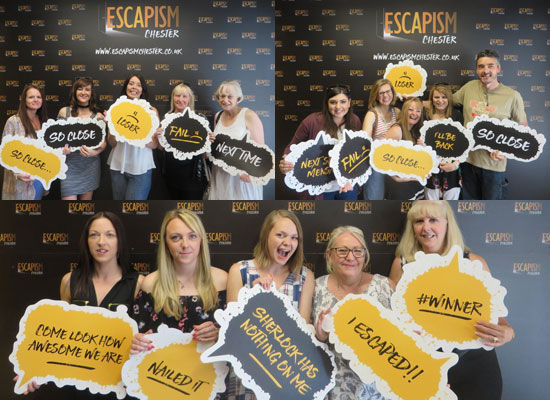 Escapism Chester provided the perfect environment for our team building day! We were able to work collaboratively with colleagues in a fun and productive manner, with the added incentive of a bit of healthy competition.
It was exactly what I was hoping for and the team at Escapism were fabulous at meeting our needs, even with a very large party.
I am sure we will be back for more... there are scores to be settled among the team!
Hannah Mansfield, Executive Headteacher, The Acorns Primary & Nursery and Whitley Village Federated School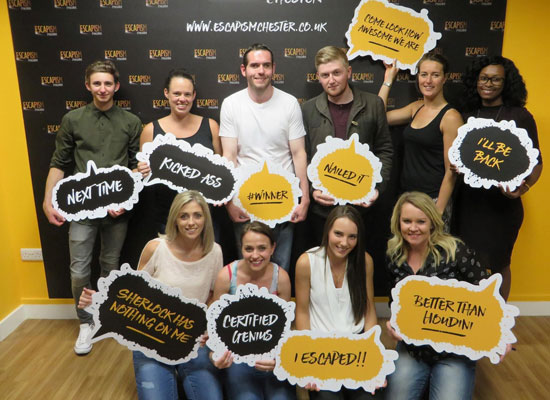 We enjoyed our team building trip to Escapism!
I wasn't sure what to expect but I was very impressed with the arrangement and we were greeted by friendly staff.
My team did the Taken room, and it certainly made us think. We really had to work together to get through the clues, and it showed our strengths and weaknesses within the team.
We all had a great time, and I can't wait to go back with the family to try to escape from another room!!
Michelle Morris, Charles Owen & Co (Bow) Ltd (Wrexham)
Why is Escapism such a great team-building exercise?
Escapism Chester is fast becoming the team-building exercise of choice for many of the top companies in the local area for the following reasons:
See how colleagues work together in the immersive settings of one of our five rooms
See how your employees cope working to solve the puzzles under the pressure of a countdown clock
Escape rooms are a great tool for new team members to break the ice
Assess the dynamic of your team. Identify the leaders, the best under pressure or the most resourceful etc
Some of the great businesses that have come to visit us