Family Escape Room Chester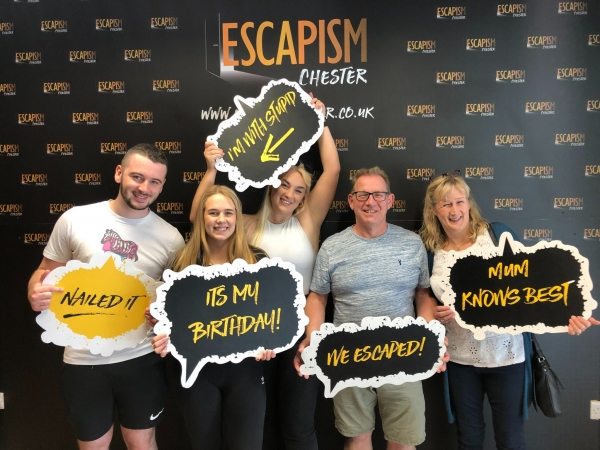 13/06/22
Family time is so important! Have you struggled finding an activity that will bring you together with no distractions from work, school, or electronics?
Escapism Chester invite you and your family to spend an hour working as a team to solve puzzles, clues, riddles and try to escape. We hope that during your experience you won't only escape from our rooms but also from the stresses of life and give you time to just enjoy and be with your family.
Take yourself away for an hour and get your mind focused on fun and have a good laugh. Let yourself have some time to escape from reality for a little while. It's also a chance for your kids to learn, problem solve and grow in confidence! And once you have escaped you can have a group photo that you can add to your family album.
It's a perfect way to spend a lovely day out, enjoy the sights of Chester, have a family meal, and join us here at Escapism Chester for an adventure you won't soon forget!
Here are some of our family reviews!
Apr 2022 • Family
"It was a fabulous thing to share with my 16 year old daughter. Really entertaining - the hour flew by! Georgia was a fabulous host. Highly recommended."
Mar 2022 • Family
"Absolutely wonderful experience. Really enjoyed it and so did our kids. Jadene was brilliant. Thank you so much for a great evening."
Great fun and a Super Challenge
Apr 2022
"We had family staying from Hampshire - so we were 2 older adults, 2 mid-age adults and 2 teenagers. Some of us had never been to an Escape Room before. Georgia was excellent, lots of useful information that was well presented. We did go round in circles/squares a bit, but with quite a bit of help - we escaped with 3.59 minutes left!
Really nice waiting area, very modern and the challenges were so good - challenged us, that's for sure! Great fun, we all enjoyed ourselves and the 60 minutes went incredibly quickly!"
Head on over to Escapism Chester and see if you and your family can escape!