Escape Tales - Low Memory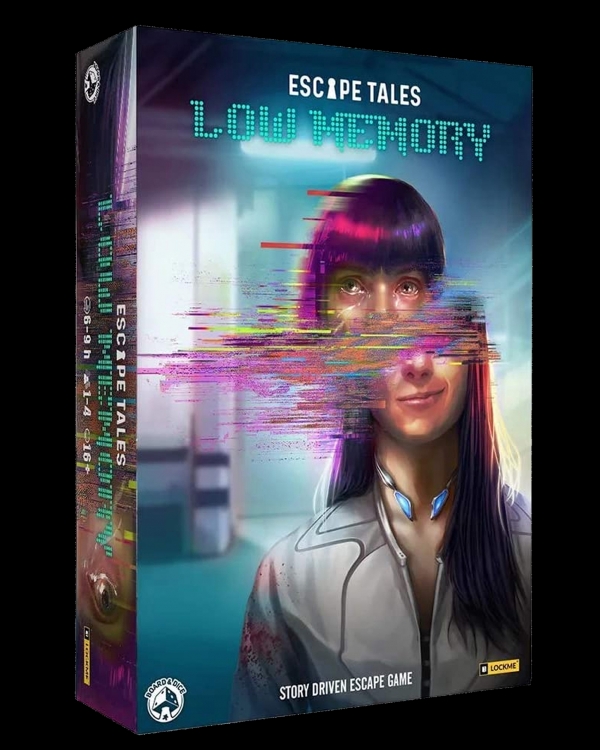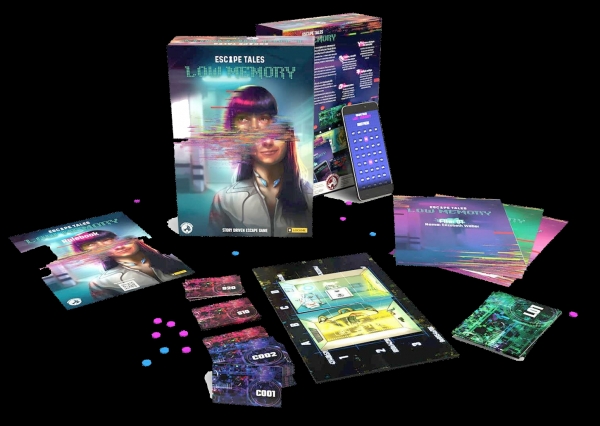 Escape Tales: Low Memory is an escape room in a card game form, with immersive exploration, no time limits when solving puzzles, and a collection of tough choices that will captivate and draw you deeply into a riveting story of a cyberpunk future.
It is the year 2060. Elizabeth is saying goodbye to her husband. They are going on a family trip, but Elizabeth must first finish a research project, so she promises to catch up with him later. A moment later, she watches her husband's autonomous vehicle leaving the driveway, her thoughts already drawn towards her work. Another normal day — at least that is what Elizabeth believes.

The following morning, Elizabeth wakes up on her sofa. She is having a terrible headache and her home is trashed — turned upside down as if there had been a break-in. Although she keeps trying, she is unable to recall anything after the moment she left work the evening before. Elizabeth decides to use the memory scanner. It is the perfect tool for the situation! However, every technological advancement comes at a price...
3 Stories, One Plot - Become three different characters and experience the main plot from three different perspectives, to make the right call at the end of the game.
Each Story Changes the Gameplay - Switching characters not only brings a new and different perspective but also changes the way locations are explored
Multiple Endings - Every choice has a different impact on the story: Puzzles you solve, paths you take, decisions you make, all of these will shape your story differently and will have an impact on the ending.
Engaging Story - The story in this game will twist your emotions, evaluate your moral compass, and keep you engaged until the very end.

Content warning: suicide
Ages - 16+
Players - 1-4
Play Time - 3x3 hours
Contents - 148 Game cards, 19 Location cards, 14 stress cards, 24 Action tokens, 4 Progress tokens, 1 Game board, 3 Story books, 1 Rulebook, mobile app
£24.99
Delivery
Items will be sent within 24 hours via 2nd class Royal Mail.
If you would like a custom order please email us at info@escapismchester.co.uk
We can ship internationally however this will be at a higher cost please email us for details.
Please double check your order that the address is correct, if you need to change shipping details please contact us as soon as possible.
Returns and Refund Policy
We accept returns of physical items within 28 days of purchasing. Any orders over 28 days are not eligible for a return or refund.
Items must be unopened and in their original packaging, we cannot accept items that have been opened.
To arrange a return please send a picture of the item with a reason to info@escapismchester.co.uk
What if my item is faulty or damaged?
If your item arrives faulty or damaged please email us with details.
Refunds
Refunds can take up to 7 working days to appear back on your card depending on card provider once processed.