Escape Tales - The Awakening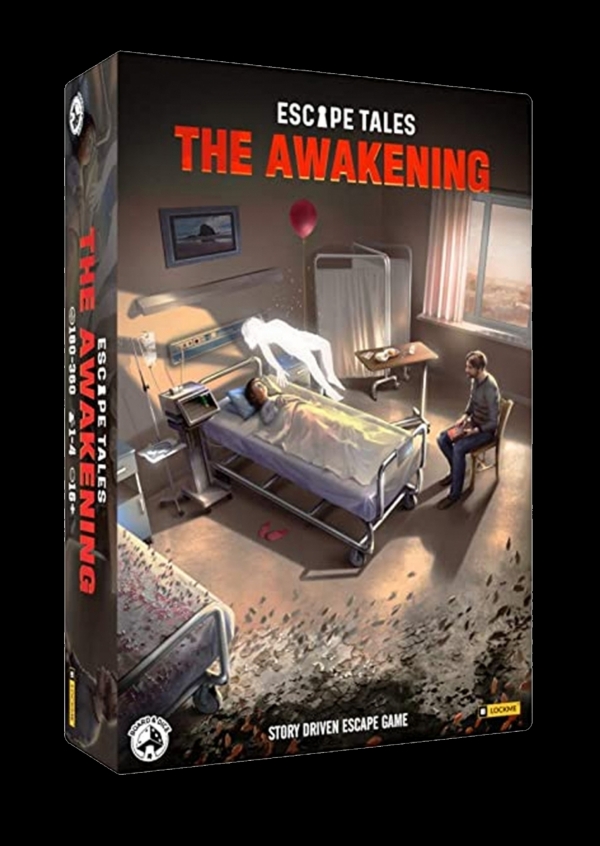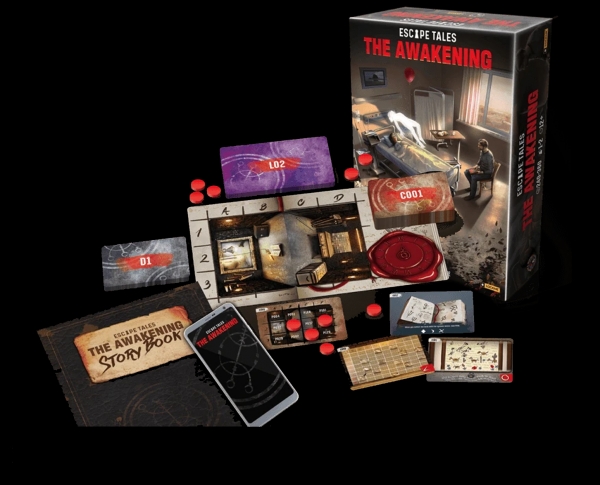 Escape Tales: The Awakening is an escape room style card game where you're not limited by time in order to finish the adventure. The game focuses on the story and your exploration of it, all while engaging you with the puzzles within and making choices deeply immersive.
Players take on the role of Sam, whose daughter has been in a coma for a couple of months and whose doctors still cannot explain how or what caused it. According to them, everything is fine with the girl; she's healthy and shouldn't be in this condition. Sam is desperate and looks for answers everywhere he can.

Enter Mark, a man whose son was once in a similar condition. Mark is quiet on the details, handing Sam a scary-looking book containing a ritual called "The Awakening". Mark promises that the book contains the answer, but Sam will need to prepare himself mentally for the journey ahead. Through determination, and a bit of luck, he will be able to find his daughter, understand the cause of her condition, and wake her up.
Now, Sam stands in his basement, ready to Awaken his daughter.

Are you ready, too?

Content warning: suicide
Open Exploration - Each and every location is open, you are free to explore however you like. There are several ways to leave a location and depending on your choices - the impact on the entire story will be different.
Multiple Endings - Every choice has a different impact on the story: Puzzles you wolve, paths you take, decisions you make, all of these will shape your story differently and will have an impact on the ending.
Engaging Story - Sam's quest to save his daughter will twist your emotions, question your moral compass, and keep you engaged until the very end.
Replay Value - You won't gain access to every puzzle and location in a single playthrough of the game. Everything you do will impact the end result - which means the game can be played more than once.
Ages - 16+
Players - 1-4
Play Time - 3-6 hours
Contents - 122 Game cards, 9 Doom cards, 18 Location cards, Story Book, Game Board, 18 Action Tokens, Mobile app
£24.99
Delivery
Items will be sent within 24 hours via 2nd class Royal Mail.
If you would like a custom order please email us at info@escapismchester.co.uk
We can ship internationally however this will be at a higher cost please email us for details.
Please double check your order that the address is correct, if you need to change shipping details please contact us as soon as possible.
Returns and Refund Policy
We accept returns of physical items within 28 days of purchasing. Any orders over 28 days are not eligible for a return or refund.
Items must be unopened and in their original packaging, we cannot accept items that have been opened.
To arrange a return please send a picture of the item with a reason to info@escapismchester.co.uk
What if my item is faulty or damaged?
If your item arrives faulty or damaged please email us with details.
Refunds
Refunds can take up to 7 working days to appear back on your card depending on card provider once processed.