Micro Macro - Full House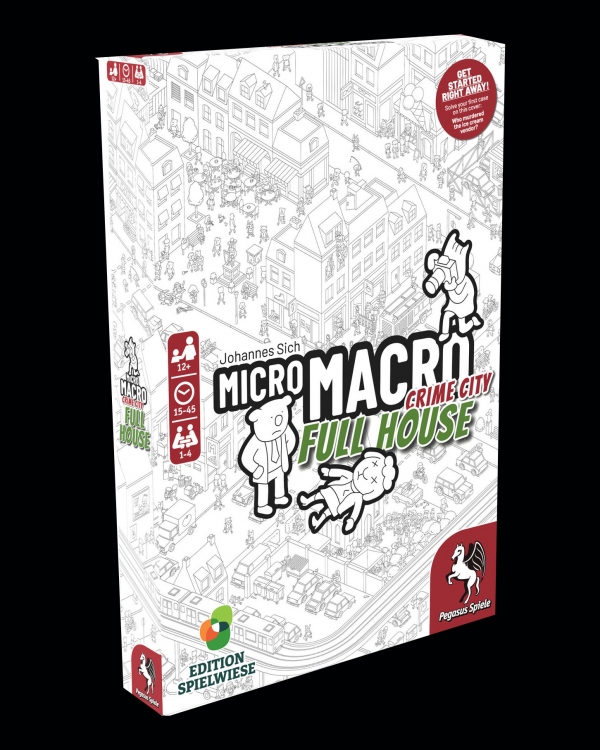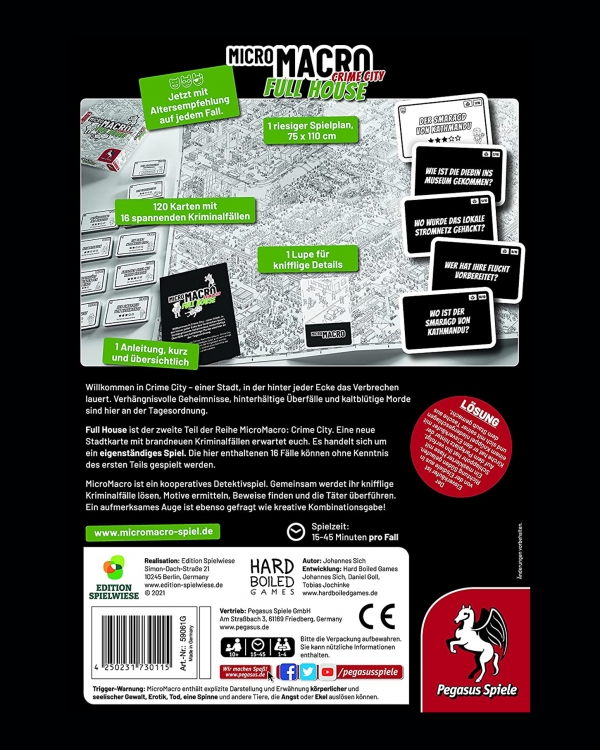 MicroMacro: Crime City includes 16 cases for you to solve. Each case includes a number of cards that ask you to find something on the map or uncover where someone has gone or otherwise reveal information relevant to a case. The city map serves as a map in time as well as space, so you'll typically find people in multiple locations throughout the streets and buildings, and you need to piece together what happened, whether by going through the case card by card or by reading only the starting card in the case and trying to figure out everything that happened for yourself. Will you be able to answer all questions about the case without fail?
Full House is the second part of the Micro Macro: Crime City series. A new city map with 16 brand new crime cases awaits you. This is a stand-alone game. The 16 cases included here can be played without having played the original game.
Ages - 12+
Players - 1-4
Play Time - 15-45 minutes per case
Contents - 1 Hude city map, 120 cards, 1 rule book, 1 magnifying glass
£25.99
Delivery
Items will be sent within 24 hours via 2nd class Royal Mail.
If you would like a custom order please email us at info@escapismchester.co.uk
We can ship internationally however this will be at a higher cost please email us for details.
Please double check your order that the address is correct, if you need to change shipping details please contact us as soon as possible.
Returns and Refund Policy
We accept returns of physical items within 28 days of purchasing. Any orders over 28 days are not eligible for a return or refund.
Items must be unopened and in their original packaging, we cannot accept items that have been opened.
To arrange a return please send a picture of the item with a reason to info@escapismchester.co.uk
What if my item is faulty or damaged?
If your item arrives faulty or damaged please email us with details.
Refunds
Refunds can take up to 7 working days to appear back on your card depending on card provider once processed.